Growing Forward Farm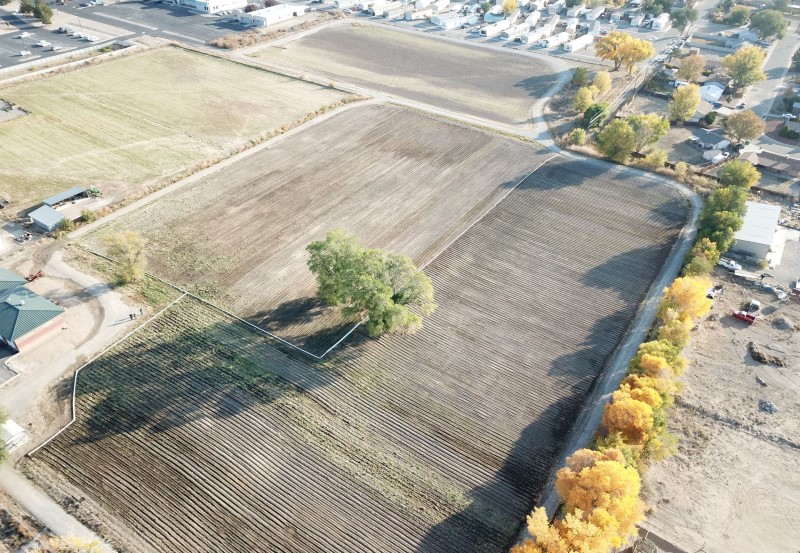 The San Juan County Extension Office is excited to announce that they have officially kicked off the development of "Growing Forward Farm". The farm is a collaborative project between the San Juan County Government and the New Mexico State University Cooperative Extension Service to develop vacant land within the Government complex into an agricultural training center. The land includes a half mile walking track that is open to the public and serves as a recreation area for county employees, which will be maintained and expanded through future health and wellness programs. The San Juan County Extension Office is proud to represent the research and outreach programs of New Mexico State University, as well as host the county's 4-H program. The staff at the Extension office are dedicated to improving the lives of community members in the county through educational programs. The Growing Forward Farm will serve as an agricultural training center unlike anything else offered in the state on New Mexico. The Extension office and its partners seek to put the principles of the Extension into practice and provide hands-on opportunities for the community. The property aims to become the central location for all things agriculture and become a resource hub for all ages of our community. The Soil & Water Conservation District and the Natural Resource Conservation Service will be closely involved in the property's programs and development.
The property will be used to serve the diversity of populations of our community, and will actively seek out new ways to incorporate new programs that address current and emerging issues facing our agricultural community. Having hands-on opportunities for our fellow youth, gardeners, and farmers and ranchers will be an invaluable opportunity that will directly contribute to the vitality of our local economy by strengthening our local food system and education.
Growing Forward Farms has secured the funds for an outdoor classroom space that will be used to host workshops, seminars and gatherings beginning in 2021. In collaboration with the Soil and Water Conservation District, the staff will also build multiple demonstration areas including composting, riparian areas, cover cropping systems and pollinator habitats.
New Farmer Training Program
Join our team!
Apply on the NMSU Website by January 17 By CLICKING HERE
The San Juan County Cooperative Extension Service (CES) provides a creative and supportive environment in which culturally diverse adults and youth can reach their full potential. Extension programs work to improve the lives of citizens and assist youth in developing positive life skills and hands on experiences. Growing Forward Farm is a cooperative project between the SJC Administration and NMSU Extension. New Mexico State University is an equal opportunity/affirmative action employer and educator. NMSU and the U.S. Department of Agriculture cooperating.
Position oversee Growing Forward Farm Activities and outreach efforts as organizing the oversight of the 12 acre outdoor classroom. This position contingent upon continued funding for a minimum of two years. Must apply by 1/17/22 Day to Day tasks will include: Overseeing and maintaining farm operations including tractor work, irrigation invasive weed control, and general farm tasks. Planning, preparing and executing events such as farm tours and festivals. Work directly with schools, 4-H members and volunteers to plan and execute educational activities. Organizing volunteer work Work collaboratively with Extension staff
Requirements:
Bachelor's degree in Agriculture, Business or related field
One (1) year of professional experience
Located in Aztec, NM
The New Farmer Training Program at the Growing Forward Farm is a developing opportunity for young and expanding farmers in San Juan County. Trainees have the opportunity to grow on about 1/4 of an acre with support from the San Juan County Extension staff. If you are interested in participating in 2022, please contact Wes Medlock at 505-334-9496.
Growing Forward Farm Health Soils Program
The objectives of this project will be completed through a multi-agency effort between the San Juan Soil and Water Conservation District and the San Juan County Extension office. The agencies will work together to schedule work days with staff and volunteers to create the demonstration areas, as well as maintain the progress of the project. Each component of the project will address both soil health issues and principles, as well as create outreach efforts and opportunities.
One of the keystones for the project is to provide an outdoor agricultural learning hub with hands-on demonstrations for new and experienced farmers, children, and community members. The funding will provide us the necessary tools and materials to create these learning opportunities. Each demonstration area will have a free-standing outdoor sign that includes the demonstration area information and implementation details, include QR codes that can be scanned for additional information. The team will create a self-guided tour and map of all of the areas that can be utilized by the community that utilizes the recreational walking path or participates in the project programs.
The outreach efforts which include four workshop programs and a field day will highlight both the implementation and the results of the work done within the project. The programs will have evaluation systems in place that will serve as a feedback mechanism to provide the agency partners with timely information regarding program activities, usefulness and community needs.
The Healthy Soils Demonstration Area, which is nearly 2 acres, area will demonstrate maintain soil coverage, maximizing biodiversity and minimizing disturbance through side by side comparisons of reduced and zero tillage practices; soil covering principles such as mulching using chipped materials from on farm; and water use for soil health plots to study microbial activity. Utilizing various demonstration plot designs, the agency staff will be responsible for planting and maintaining the area, and creating educational materials that focus on each state of implementation.
The Soil Health School workshop series will focus on each component of the program and will be created for adult and youth audiences to better increase the likelihood of implementation of soil health practices. The Cover Crop demonstration area, which is nearly 10 acres, will provide a large area for cover copping research and programs. The area will be representative of soil health practices including keeping the soil covered, maintaining a living root and minimizing disturbance. A variety of best suited cover crops will be utilized to demonstrate the benefits of specific mixes, timing of seeding and management. The land within the area will gain needed organic material and microbial life to be better utilized in future phases of the farm plan. The research for these areas will be summarized in the cover cropping fact sheet that will be developed.
The Composting demonstration Area will demonstrate maximizing biodiversity through physical demonstrations of four types of composting: traditional three bin composting, vermiculture, bioreactor and bio char systems. Participants will be able to identify various benefits of each system and what system will best meet their needs for both organic material and efficiency. This system will also allow the farm to close the nutrient cycle and repurpose organic materials on the farm such as leaves, branches and plant biomass.
The Riparian area, which currently exists in a swampland area of the land, will demonstrate the integration of animals and native species into the learning area, and will represent the importance of buffer areas and maintaining a living root. By turning this space into an intentional riparian area with posted signs detailing the wildlife and plant species, the agency partners will be able to better demonstrate what creating a conservation benefit space would look like for ranchers and community members. The Pollinator demonstration strips will demonstrate the importance of beneficial insects and native plants, as well as support maintaining a living root and increasing biodiversity. These strips will be planted early in spring as a combination of seed and living plants through a workshop activity involving 4-H youth.
Follow us on Facebook and Instagram for updates